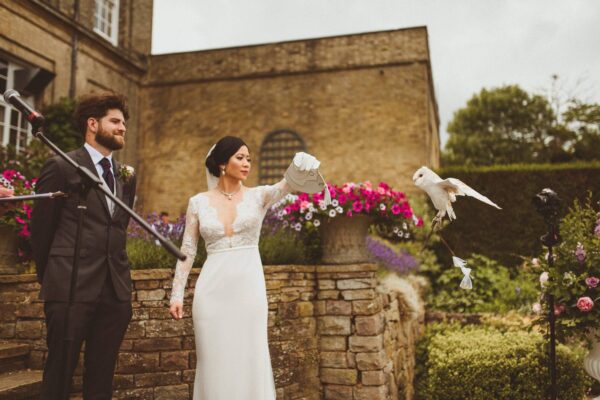 It's not always necessary to spend an arm and a leg on a wedding. Some short cuts may be possible. But pros and cons need to be weighed up carefully.
Wedding Planners
A wedding planner is a pretty essential team-player for an elaborate or large affair. However, you can sometimes manage without one, especially if the ceremony is going to be straight-forward. There will still be a lot of work and responsibility on your shoulders – you may have to source the best suppliers and co-ordinate everything on the day yourself. You may be leaving yourself open to worry and anxiety in the lead-up to, and on, the big day. So think it through first.
The Venue
Again, if the ceremony is going to be very simple, and if you have the space, you can consider holding your wedding in your home or back garden. Of course, hiring a venue means you are paying for convenience and simplicity. Otherwise, you've got to be very aware of health and safety when setting up, and will need a lot of support before, and on, the day.
Officiant
You can avoid using the services of a professional, and get somebody else to prepare and read the ceremony. As a celebrant, I may be biased, and don't recommend this! A celebrant will put together a wonderful ceremony based on your wishes and beliefs. They will also deliver it professionally and beautifully, as they are experienced public speakers. Their presence will also afford you calm and peace of mind, which are so valuable at a stressful time.
Extras
Do you really need that owl bringing the rings to the bridegroom? Bear in mind, if you're trying to save money, what is dispensable and take into consideration what is essential to you.
Catering
If it's a very small do, you can get away with buying in, laying out, serving, and washing up/disposing of the food and drink, not to mention the crockery, serviettes and cutlery yourself. You'll have to make sure that special requests (eg vegetarians, gluten-free, children's food) are looked after. Are you sure the saving here is worthwhile?
Entertainment
You can certainly save money by skipping the entertainment altogether, or by keeping it amateur. If you go for a reception, then be aware that not everybody will like what you offer. (The grannies and grandpas may not like a disco, for example.)
Photographers/Videographers
I think it's a false economy to do without a professional photographer and/or videographer. You're going to want tangible memories of your big day, and they need to be of high quality. You may know someone who's a dab hand at photography and will do it for you. It does mean that they will not be able to enjoy the day properly and – even worse – if they stuff up, then your friendship may risk being sacrificed.
The list could go on! But I hope it gives you something to start on, as you plan your big day – and, if you decide to use a civil celebrant, please have a chat with me!