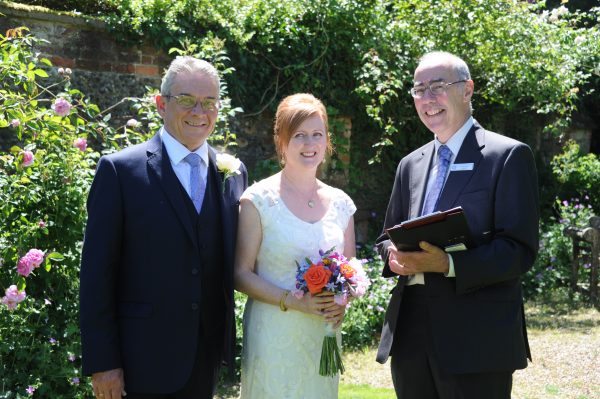 People sometimes think the civil celebrant cost for a ceremony is not justified. Uncle John can do that just as well – and for free!
But will Uncle John be able to put together – let alone present – a ceremony that is memorable (for the right reasons)? Does he have the writing and presentation skills, for example?
A lot of people think that all a civil celebrant has to do is to rock up at the 'gig' and deliver a few well-chosen words and then go home. Money for old rope, as they say.
However, it's actually a lot more than that for me.
The ideal
My mission is to cultivate a relationship between myself and the client. I want them to trust me and feel there's rapport. That's especially important if I'm going to be conducting their ceremony on the most important day of their lives!
I make it my goal when we meet to ask the right questions and actually listen to the responses. Then I can understand the clients' vision and be in a position to help them realise it.
I compile a ceremony that reflects their personalities and beliefs and which is everything they want.
I take pride in conducting an impeccable ceremony.
Finally, I appreciate that I am privileged to be part of the couple's excitement and joy.
How do I achieve that?
Firstly, cultivating a close relationship takes time, as well as patience and tact. (I do not end up working with every person who enquires about my services.)
I don't assume I know the clients' wishes better than they do. I will advise them, if I feel, from my considerable experience, that something might, or might not, work; however, it is their big day, and I never forget that.
I am happy to give advice, if the clients are unsure what to do. The goal is to draw up a unique, personalised ceremony that fulfils the clients' dreams.
Either way, we normally exchange drafts until the clients are happy with every word.
I always bear in mind that it's not about me, but the clients. I present clearly and beautifully. I won't accept second best.
The bottom line
I trained both as a funeral celebrant and as a celebratory celebrant, and that training was not cheap.
I have considerable experience – I graduated as a celebrant in late 2012 and have now conducted over 150 ceremonies (including weddings (same-sex and heterosexual), vow renewals, handfastings, namings and funerals). It's difficult to put a price on such experience.
My many testimonials demonstrate that I am professional but friendly, and focussed on achieving my clients' goals.
On the day, I will normally arrive an hour early. I check everything is in place at the venue and reassure the groom! I am a calming influence at a frenetic time.
When I conduct the ceremony, I use my considerable presentation skills. I foster a warm atmosphere and make the guests feel included too. Such skills come at a price.
All this is why I charge a fee. if you try me, I hope you'll agree that I do earn it!