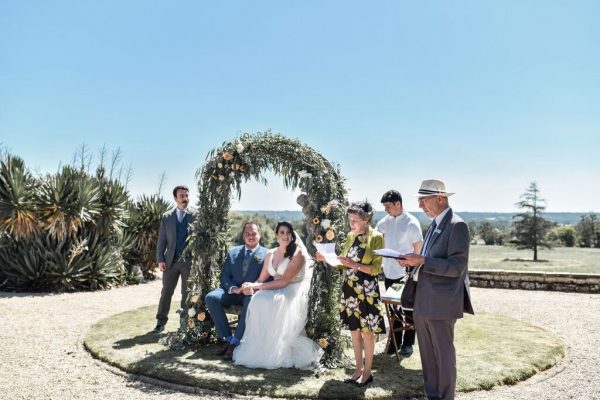 Among the questions I am regularly asked are the following:
What is a Civil Celebrant, actually?
The bottom line is that a civil celebrant will personalise your ceremony for you. They should be able to advise you, but will also listen to you. Their goal is to understand your vision of the big day, and tailor a ceremony that reflects your personalities and beliefs and is everything you ever dreamt it would be.
What sort of Ceremonies does a celebrant offer?
Some specialise in one or two areas only (eg high-end weddings or funerals). However, most will offer weddings, vow renewals, namings, handfastings, funerals, and so on. These may be religious, part-religious or secular, depending on the celebrant.
Why not have a full religious ceremony?
There's nothing to stop you having a full religious ceremony led by a celebrant. You're more likely to go to your own Church (or whatever) for this, though. Moreover, many celebrants are not ordained; however, they may still be willing and able to perform such a ceremony.
Are civil celebrant ceremonies legal?
This is now under discussion at Parliament. But, at least, for the next few years celebrant ceremonies in England & Wales have no legal validity. That applies to weddings or funerals, as these must be legally registered.
There is nothing to stop you getting legally married at a Register Office (by appointment) with two witnesses. You can then proceed – that day or the next – to the venue of your choosing to have the celebrant-led ceremony of your choice. Which, to all intents and purposes, will be your actual wedding.
What makes a celebrant-led ceremony special?
The celebrant crafts the ceremony together with you. Usually, you will be sent drafts to comment on, and a good celebrant will ensure that you have approved every word of the ceremony by the time the big day arrives.
You may be encouraged to incorporate rituals (such as handfasting, Unity Candle, stamping a glass underfoot, etc.) and personal items (how you met, what attracts you to each other etc.).
You can include the readings you like (whether spiritual, religious, humorous, or whatever) and have the people you want participating in the ceremony.
You might write and recite your vows (possibly, with the celebrant's assistance).
You work as a team towards your special, unique ceremony.
How do you choose a really good celebrant and how much do they charge?
If you don't have first-hand experience or a reliable recommendation, have a look at the celebrant's website.
Look at testimonials.
See what the celebrant says and how they say it.
Do you think you will like them? Do you feel you can trust them?
Are they humble enough to listen to you? Will they be competent on the day?
If you think they are promising, speak to them, preferably face-to-face, and ask the burning questions you may have. (You can meet a couple of celebrants, and see how they match up.)
Once you have decided you want that particular celebrant to share the limelight with you, only then worry about their cost.
You might find one who undercuts the others considerably, but do you want to take the risk of being disappointed on the day? Nonetheless, it should be pointed out that being expensive does not guarantee quality.
If the celebrant you do want to work with is a little too expensive, can you save some money somewhere else? Or can you pay in instalments?
Of course, you may have other questions; I'm waiting to answer them!