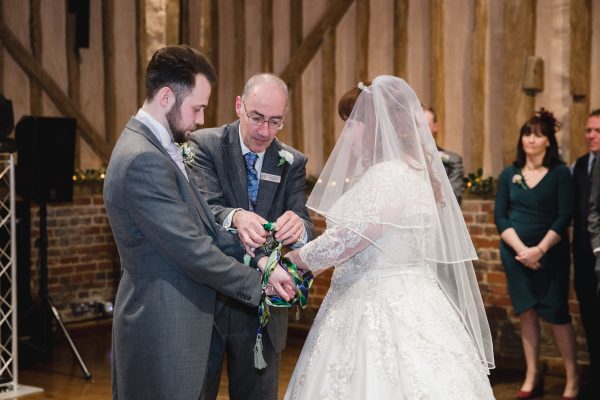 Wedding shackles? Sounds a bit melodramatic!
Let's have a look.
It's over forty years since people were given free choice as to the type of wedding ceremony they could have. That happened in Australia.  It took much longer to get established over here, but England too now gives you the opportunity to have the ceremony that you actually want.
However, judging by my experience at wedding fairs, the majority of people think that the only choices are a full religious service (from a prayer book) or a (secular) register office ceremony. They seem quite surprised when I tell them that the service can be personalised and as religious (or not) as they want.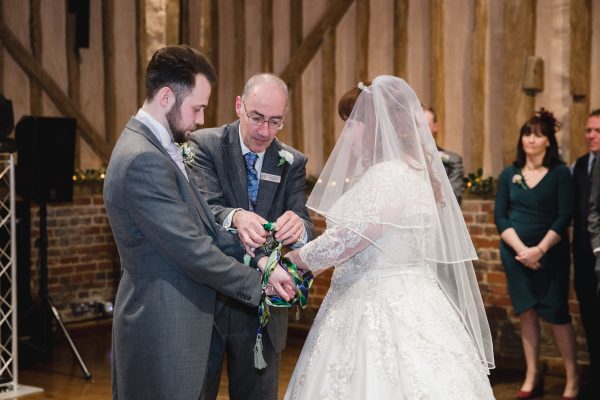 Putting ON the shackles!!
Source: louiedonovanphotography.co.uk
So, in case you're a bit confused too, here are some guidelines.
What you MUST do
The bottom line is that, in order to marry legally in England, the marriage has to be registered with the registrars and certain words pronounced aloud. You can only do this at the Register Office, or at a licensed venue (if the registrars can come out there), or in a C. of E. Church.
What you CAN do
You may be thinking about a personalised service.  So this won't be one that, as you move down the 'conveyor belt', is the same for you as it is for the next person, and the one after that.
The way you can achieve a unique ceremony is to use a civil celebrant (like myself!). Ensure the mandatory stuff is complete like this:
Hold your ceremony in a venue licensed for weddings, such as certain hotels. The registrars normally come out (at a price) and will conduct their standard service. As soon as they have done so, your civil celebrant can stand up and start leading the ceremony of your dreams.
Go along with two witnesses (in your jeans, if you wish!) to the local Register Office. (Book up first!) Once you are legally married, you can proceed (either immediately or even in a day or two) to the venue of your choice where your Civil Celebrant can conduct your special ceremony.
One advantage of number two is that you can go (almost literally) anywhere to hold yourceremony. That might mean an island, a mountain top, a monument, beside the water – you are only limited by your imagination, practicality and permission!
Types of Ceremony
The beauty of a civil celebrant is that you are not obliged to hold a fully non-religious ceremony. Nor is the opposite the case. You may want a compromise. Perhaps you are a mixed-faith couple, unable to marry in your own religious buildings, but who still want a religious service. The civil celebrant can write such a ceremony. Perhaps your parents want religious elements, but you do not. Again, the civil celebrant can help.
However, you want your ceremony, your civil celebrant can advise and guide you.
That way you have abundant choice, and your ceremony will be everything that you want it to be.
And why shouldn't it be?!
Featured image source: thegroomsays. blogspot.com