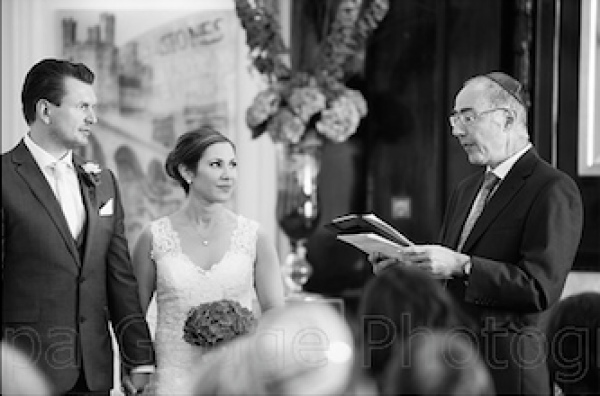 I am beginning to learn that it doesn't really pay to hide one's light under a bushel.
Parlez-vous mariage?
People think of me as a civil celebrant, but I am also a linguist. Apart from a decent command of my native language, I have a degree in French and Russian, speak fluent German, read Hebrew and get by in Czech and Italian.
Being the sort of businessman that I am, it never occurred to me until recently that that might be an asset to my current profession! But now I know differently.
One of my present assignments is working on a wedding service for a couple from mixed cultures: he is British, but she is Russian. There will be a few guests coming over from Magnetogorsk, so I suggested welcoming them in their native language. Wow! This idea has gone down a treat!
Well, when you think about it, it makes sense. Of course, I'll have to work out how best to market this asset, as the language bit may appeal to quite a number of couples. Indeed, maybe this would lead to a few 'gigs' abroad, which would be very exciting!
A Mystery?
The Hebrew side proved very useful last August when I conducted a Jewish wedding. No, I am not a rabbi; in fact, the couple's rabbi was among the guests and (I'm relieved to say!) he professed himself very happy with my service.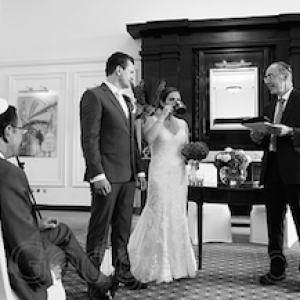 Photos: Philippa Gedge Photography
In case you're a bit baffled, let me explain that the groom was marrying a non-Jewess, who, though a regular synagogue-attendee, had no desire to convert, so the rabbi couldn't conduct the ceremony. I was therefore approached to put together and lead the ceremony.
In the event, I led a (slightly creative) service, containing some elements I had suggested and some the couple had included.
As that bushel has now been removed, I'd like to conclude with the testimonial I received from the couple for that wedding:
"Michael Gordon conducted a Jewish religious wedding ceremony for us immediately following our civil wedding ceremony. Michael was very receptive to our input and the whole process was smooth and pleasant. On our wedding day, Michael impressed everyone with his delivery, warmth, good humour and professionalism. We had many comments afterwards from our guests saying how impressed they were with Michael and how they felt a part of the ceremony (something that was important for us and which Michael helped us to achieve).
"Michael is happy to tailor a ceremony to meet a couple's particular requirements. His knowledge of Hebrew is both impressive and authentic. We would certainly recommend Michael to any couple who want to add a spiritual or religious element to their wedding celebrations without necessarily having something formal in a church or synagogue."
C'est magnifique!